Product Description
Preserved plum
Preserved plum is a kind of snack in daily life. It is a kind of food made by salted plum. Because people often eat it when chatting, it is called preserved plum. Because preserved plum is sweet and sour has been favored by people, it is a small snack that is very popular. There are many ways in which plum can be eaten in life. It can be eaten raw directly, or it can be made into juice, and it can also be made into delicious dishes. Many people often eat plum, but they don't understand the role of plum. In fact, the role of preserved plum is also very much, although it seems inconspicuous, but it has nutritional value that you can hardly imagine. Preserved plum is rich in fiber, and the content of potassium and calcium is also very high. These nutrients are of great benefit to the body.
Plum contains low oil, low sodium content, no bile-containing alcohol, and is rich in fiber, potassium, calcium, vitamins A, B1 and B2. It is a great food that nature gives us. These nutrients of plums can help us improve some nutritional problems. Constipation can be encountered by adults and infants, and the high fiber content of plums makes it a natural softener and a good food for constipation.
Ingredients: peach, sugar, edible salt, liquorice, food additives [citric acid, DL- malic acid, sodium cyclamate, saccharin sodium, Neotame, aspartame (phenylalanine), potassium sorbate, Sodium metabisulfite, titanium dioxide, food flavors and fragrances
Products details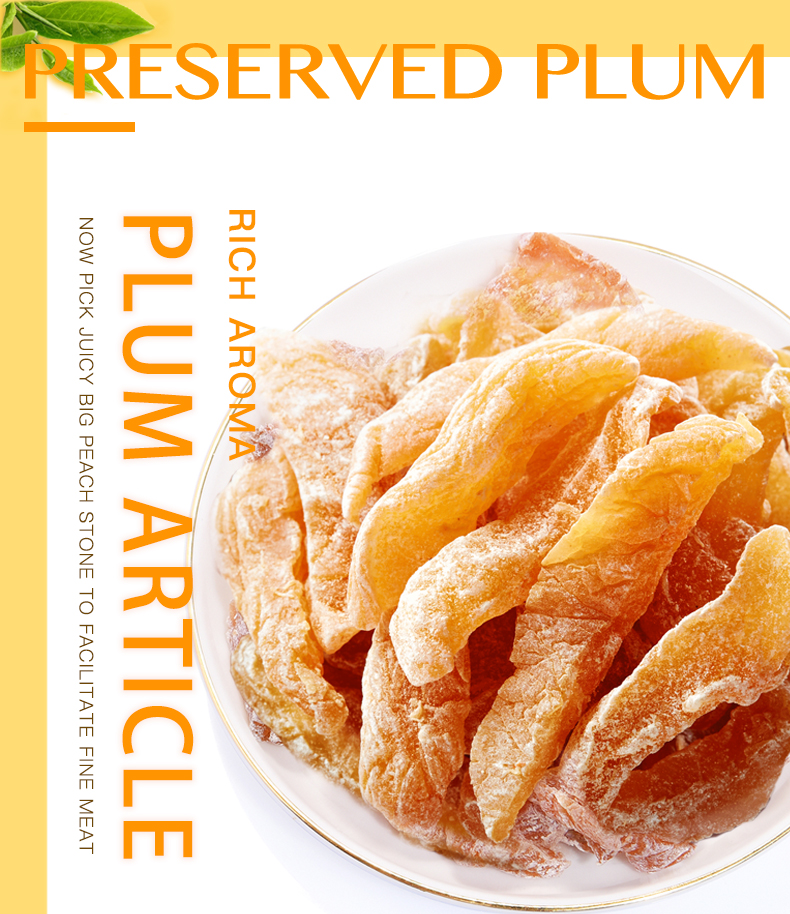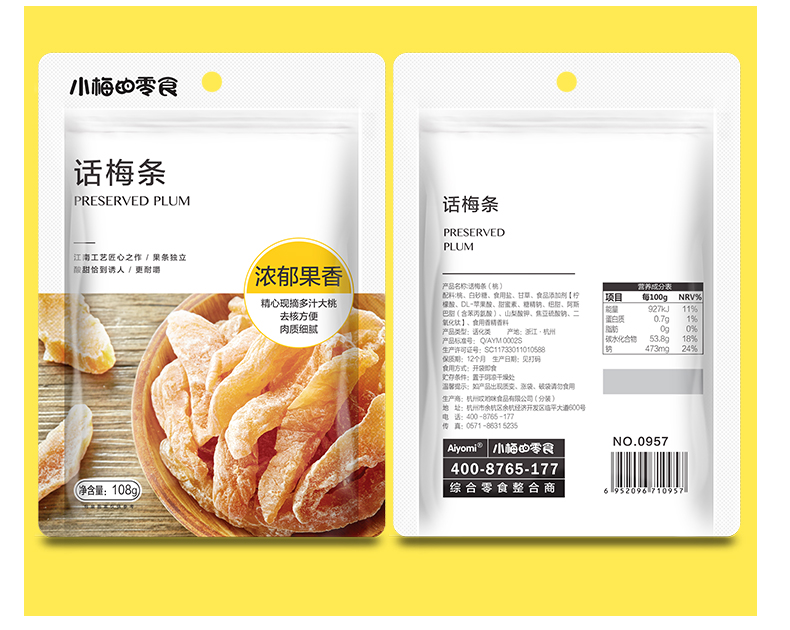 Our company
• Hangzhou Aiyomi food co., LTD., established in 2008, is a comprehensive snack food enterprise.
• The company develops rapidly from a unique and forward-looking perspective, starting from the five golden key points of product research and development, brand positioning, visual marketing, market analysis and omni-channel sales, starting from the source to the sales terminal.We attach great importance to product quality and consumer experience. We believe that only products that truly meet consumer needs are good products that can open the market.
• Mei's snacks -- "minimalist new retail" hits.Cover dry series, Fried series, candied fruit series, nuts series, meat products series and other series of snacks.